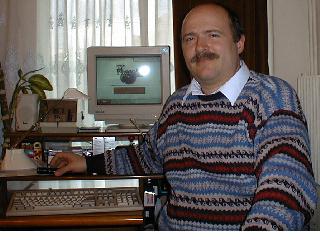 Florin SANDU
Email:
sandu@vega.unitbv.ro

NAME AND SURNAME: Florin SANDU
ADDRESS: "Transilvania" University of Brasov
Electrical Engineering & Computer Science Faculty
JOB: Professor in Electronics & Telecom
TEACHING ACTIVITIES: Electron Devices and Circuits
Signals, Circuits and Systems
Data Acquisition and Processing Systems
A BRIEF PRESENTATION:
I graduated in 1984 the Politechnical University of Bucharest, Electronics and Telecommunications Faculty.
I got a governamental repartition in research, with a practical period at the "Romanian Aeronautical Industry - IAR" - Brasov, helicopter and light aircraft factory, at the radio and avionics laboratory. After the first four years in aeronautical industry,
I worked one year in the "Carl Zeiss" research/technical team of the University of Brasov, in the field of spectro-photometers
and one year at I.I.R.U.C.-S.A., in a service team for mini-computers.
Since 1991, I work at "Transilvania" University of Brasov - Electrical Engineering Faculty – Electronics and Computers Department.
I obtained my PhD title in 1998, with a thesis contributing to Data Acquisition Optimization.
Here is a link to the VIRTUAL ELECTRONICS LABORATORY.
I live in Brasov, an industrial town (about 450,000 inhabitants), in a beautiful mountain area.
All my extra-time is devoted to my wife and to my two daughters, mainly for expeditions in our nice surroundings.